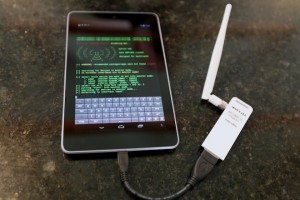 Novità dal settore hacking da dispositivi mobile. Se prima l'hacking di una rete era un lavoro duro, meticoloso, che portava via parecchio tempo, ora non più!
E' di poco più di un'ora fa la notizia che gli sviluppatori di Pwn Express hanno creato un kit per il perfetto hacker su piattaforma Android: un tablet Google Nexus 7 moddato, in grado di gestire l'enorme quantità di pacchetti dati su connessione wifi necessari per verificare la robustezza e la sicurezza di una rete.
Per aggirare i limiti tecnici imposti dal chip integrato, il tablet è dotato di un'antenna wifi esterna e di una suite di programmi costruiti ad hoc per gestire ogni operazione con rapidi tocchi e pochi passaggi.
Il Pwn Pad (questo il nome del tablet) si unisce ad una vasta gamma di prodotti della Pwn Express dedicati alla sicurezza informatica e viene venduto al pubblico per $795.00 USD, una cifra non accessibile a chiunque ma considerando il set di funzioni che mette a disposizione un professionista del settore sicurezza informatica potrebbe farci un pensierino. L'elenco delle App è davvero vasto ed alcune di esse non possono essere utilizzate su altri dispositivi a causa dei limiti hardware:
Wireless Tools

Aircrack-ng
Kismet
Wifite-2
Reaver
MDK3
EAPeak
Asleap-2.2
FreeRADIUS-WPE
Hostapd

Bluetooth Tools:

bluez-utils
btscanner
bluelog
Ubertooth tools

Web Tools

Network Tools

NET-SNMP
Nmap
Netcat
Cryptcat
Hping3
Macchanger
Tcpdump
Tshark
Ngrep
Dsniff
Ettercap-ng 7.5.3

SSLstrip v9
Hamster and Ferret
Metasploit 4
SET
Easy-Creds v3.7.3
John The Ripper(JTR)
Hydra
Medusa 2.1.1
Pyrit
Scapy
Se siete interessati alle potenzialità di Pwn Pad e ad effettuare test di sicurezza in maniera rapida e veloce usufruendo di tutte le comodità di un tablet potete effettuare l'acquisto cliccando qui.
Ecco alcuni screenshot:
 Chi non ha 795 dollari da spendere può sempre dilettarsi con l'eccellente dSploit, app android gratuita che permette di effettuare hacking delle reti a cui è connessa mettendo a disposizione un buon numero di tool che vanno dallo sniffing al MITM (Man In The Middle).
Fonte: FabrizioPuce.it